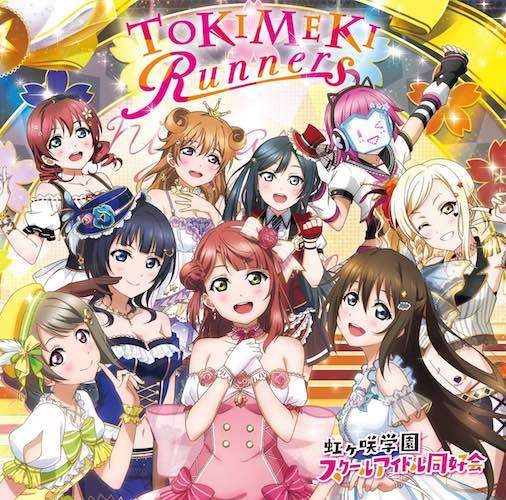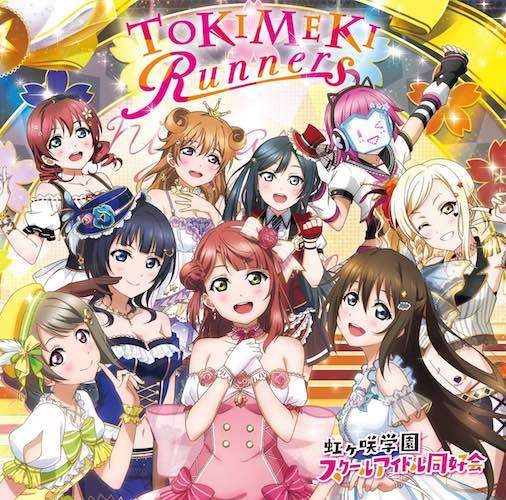 TOKIMEKI Runners
by Nijigasaki High School Idol Club
TOKIMEKI Runners
Released 21 Nov, 2018
℗ 2018 LANTIS
Song album
TOKIMEKI Runners
Transcribed by

Quuplet
Original song key(s)
D major
---
TOKIMEKI Runners
by Nijigasaki High School Idol Club TOKIMEKI Runners
D major
---
---
INTRO
| D - A/C# - Am/C - B | (B)
| G - F#m - A# - A# |
| G - A |
VERSE 1
UmareDta no wa tokimeki
HA/C#ikare - Bmta no wa kagayaki
AAno Ghi kara kaAwari hajimeDta sekai B♭ C
Miteru Ddake ja taA/C#rinai
Karada F#mugo - A#dimkashi - Bmte
Dekiru koto Emnai ka sagashiAte miyou yo Gadd9koko deD
PRE-CHORUS 1
Kore A/C#wa yu - Bmme kanGa?
YuDme tte suteki na AkotobA#dima
ItBmteru Gdake de Aii kibun
Kitto yuGadd9me da to kiF#mmete A#dimshima - Bme
Aa Emyuuki ga waiGte Akita!
CHORUS 1
DWakuwaku kanaeru suF#mtoorii
GDou naru ka wa bokuBmra shiAdai
GDeai tte soF#mre dake Bmde
KisEmeki toG BmomounAda yo
DWakuwaku kanaeru suA/C#too - F#mrii
BmMinna de tanoshiku Am7/Cnarou Dyo
GIkiteru! tte F#mkokoro Bmga saEmkenjau
ASonna jikkan Ghoshii yo ne
(WakuAwaku shiDtai kimi toG wakuAwaku haBmtsu sutoorii)
HajimaGre! (wakuAwaku shiDyou kimi mo!) B♭ C A
VERSE 2
Fui ni Dkita yo hiDrameki
C#dimYareru Bmkamo to tsuBmbuyaki
AKoreGkara wa kiAmi to tabi suDru sekai B♭ C
ShiranaDi koto ga A/C#takusan
Kimochi F#mtaka - A#dimmat - Bmte
Dekiru koto Emaru yo nanika Awa wakaranaiGadd9 kedo D
PRE-CHORUS
MinA/C#na yuBmmemiGtai?
YuDme tte itsu kara Amiru A#dimno
Ki ga Bmtsuita Gtoki mou Amiteru!
Dakara masGadd9sugu ni suF#msunde A#dimmiyo - Bmu
Waa Emkibou ni yobaGre- Ata yo
CHORUS 2
DKirakira motomeru F#mtumoroo
GDoushitai ka wa bokuBmra shiAdai
GNegai tte ooF#mki na hoBmdo
KireEmi da toG BmomounAda yo
DKirakira motomeru A/C#tumo - F#mroo
BmMinna de egao ni naAm7/Crou yoD
GGanbarunda! tte F#mkokoro Bmyo saEmkenjae
ASoshite hashiri B♭dashite
BRIDGE
Doko iAmkou ka? (dokodemo!)
ToB♭kimeCki ni kiiDsus4te mi - Dyou
B♭ Suki na koto ga Amkagi da yo G#dimne
Mune Emni te o F#mate
KiiB♭te miru yo "Cdaisuki" Do!
INSTRUMENTAL
| D - D - A/C# - A#dim |
| Bm - Bm , A#dim - Am7 - D |
| (rest) , G - G - F#m - Bm |
| C - C - A - A |
| A - A |
CHORUS 3
DKirakira motomeru F#m/C#tumoroo
CDoushitai ka wa bokuBra shidai
GNegai tte ooF#mki na hoBmdo
KireEmi da toG BmomounAda yo
DKirakira motomeru A/C#tumorooF#m
BmMinna de egao ni naAm7/Crou yoD
GGanbarunda! tte F#mkokoro Bmyo saEmkenjae
CSaa minna Amo
CHORUS 4
DWakuwaku kanaeru suF#mtoorii
GDou naru ka wa bokuBmra shiAdai
GDeai tte soF#mre dake Bmde
KisEmeki toG BmomounAda yo
DWakuwaku kanaeru suA/C#too - F#mrii
BmMinna de tanoshiku Am7/Cnarou Dyo
GIkiteru! tte F#mkokoro Bmga saEmkenjau
ASonna jikkan Ghoshii yo ne
OUTRO
(WakuAwaku shiDtai kimi toG wakuAwaku haBmtsu sutoorii)
HajimaGre! (wakuAwaku shiDyou kimi mo!) B♭/G A
G(WakuAwaku shiDtai kimi toG wakuAwaku haBmtsu sutoorii)
HajimaGre! (wakuAwaku shiDyou kimi mo!)
| Gm , A - B♭ , C - Fsus4 - F |
---
---
---