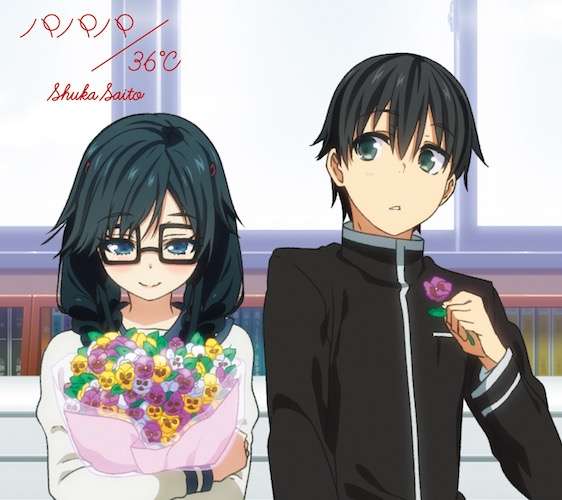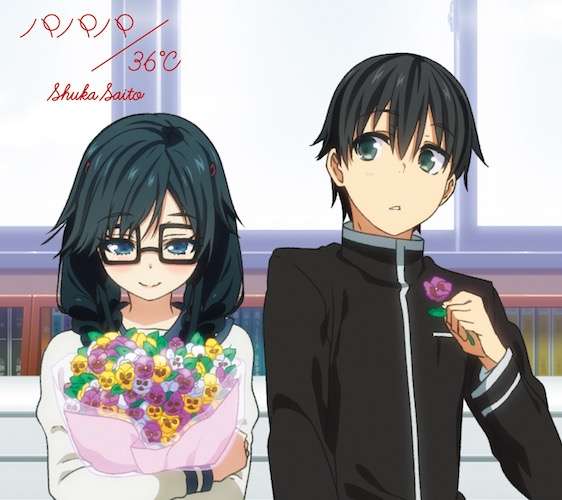 Papapa (パパパ)
by Shuka Saitou (斉藤朱夏)
Ore wo Suki Nano wa Omae Dake ka yo, Oresuki Anime TV Series (ending song)
Song album
36 Degree / Papapa
Transcribed by

Hikari
Original song key(s)
D major, D♭ major
Key(s):
D major, D♭ major
×
---
Papapa (パパパ)
by Shuka Saitou (斉藤朱夏) Ore wo Suki Nano wa Omae Dake ka yo, Oresuki Anime TV Series (ending song)
D major, D♭ major
---
---
PRELUDE
| D♭ |
| G♭ , A♭ - D♭ , B♭m - G♭ , A♭ - D♭ |
VERSE 1
KiG♭mi wa iA♭ji waru na Fmtouri-B♭mame
IG♭tazura A♭ni yasashiFmku nante shinaB♭mide
MaG♭nmato A♭suikonde FmsodachiB♭mmashita
MuG♭ne no oku no oku ni D♭saita hana
SoG♭re wa koi to yuu naD♭mae no hinshu desu
PRE-CHORUS 1
G♭Amai nioi to G♭mshinzou ga chikutto
IFmtami sukoA♭shi no doku B♭mga aru koto
E♭mKimi ga inakucha kaFmrete shimau koto
SoG♭re dake wakatteru n A♭ Ada
CHORUS 1
DPatto hiraita C#mah kono F#mfurawaa
BmDonna zukan ni Amono tDte nai ya
GSekai hatsu no dai hakken F#m dakara kimi ni misetakute
Em Na no niG marudAe kyoumi nai mitai sa
DNokku shiC#mtemo iF#mrusu tsukatte
BmRokku shita maAma no kimi Dno tobira
GSore na no ni nikumenai yaF#m kore dakara fushigi da
TsuCbomi wa ne Bmhora B♭ hiAraite shimaun da papaG F#mpa
Bm Mou dou shiEmyou
TsuAbomi wa ne hora, hiraite shimaun da papaG Apa
| F#m , Bm - G , A - D , C# |
VERSE 2
AG♭mai aA♭mai mi wo soFmdateru B♭mni wa
SuG♭kunai A♭mizu ga chouFmdo ii tte B♭mkiita
TsuG♭gou yoA♭ku shinjiFmte mitaB♭mi na
MuG♭ne no oku A♭no oku ni D♭saita hana
KiG♭mi to amaku amaA♭ku miD♭noru hazu
PRE-CHORUS 2
G♭Dokoka de yonda G♭mzasshi no kounaa
TsuFmkazu hanarezu no kaB♭mkehiki no sa
Demo E♭mkakenuketain da hiFmkitakunain da
SoG♭re kurai wakaru deA♭sho? A
CHORUS 2
DPatto furimukaC#msete miF#mtai na
BmAtto odoroku Ayou na fuDreezu de
G Nante koe wo kakeyou ka? F#m hen na adana de yobou ka?
Em Nee kiGkoenaAi furi shinaide
DAppu shite shatC#mtaa oshi F#mtatte
BmDokka pinboke Ano kimi Dno firumu
G Sore na no ni sa tanoshiin daF#m kore dake no fushigi ga
TsuCbomi wa ne Bmhora B♭ hiAraitekun da papaG F#mpa
| Bm - B♭ - A |
BRIDGE
G Mirimeetoru tani da tte edaha nobashi teko
D Nan sen kiro saki kara demo wakaru kurai
Em Soshitara mite minu furi nante sasenai
Oh Yeah DOh yeah sou desho?D Em Fm F#m
G Afure dasu kimochi wa osaeyou mo nain desu
D Saisho kara somosomo oBmsaeru ki ga nain desu
EmSore mo F#mkore mo Gzenbu Ckimi no shiAwaza da shi
CHORUS 3
Patto hiraita C#mah kono F#mfurawaa
BmDonna zukan ni Amono tDte nai ya
G Sekai hatsu no dai hakkenF#m dakara kimi ni misetakute
Em Na no niG marudAe kyoumi nai mitai sa
DNokku shitemo iC#mrusu tsuF#mkatte
BmRokku shita mama Ano kimi Dno tobira
G Sore na no ni nikumenai yaF#m kore dakara fushigi da
TsuCbomi wa ne Bmhora B♭ hiAraite shimaun da papaG F#mpa
Bm Mou dou shiEmyou
TsuAbomi wa ne hora, hiraite shimaun da papapa
OUTRO
| G , A - F#m , Bm - G , A - F#m , Bm |
| G , A - F#m , Bm - G , A - D | (D)
---
---