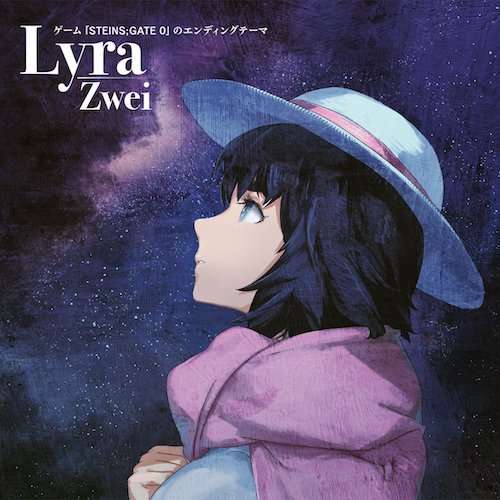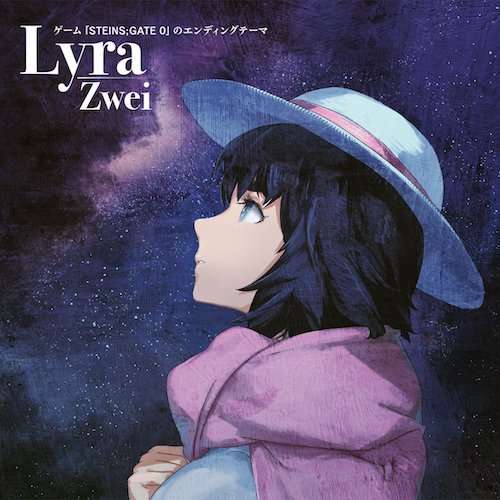 Lyra (ライア)
by Zwei
Steins;Gate 0 TV Anime (Episode 8 insert song)
Transcribed by

Quuplet
Original song key(s)
F major
---
Lyra (ライア)
by Zwei Steins;Gate 0 TV Anime (Episode 8 insert song)
F major
---
---
INTRO
| F , F , F , Gm – Gm – Am , Am , Am , Dm – Dm |
| B♭ , B♭ , B♭ , Am – Am – Gm , Gm , Gm , Cm – Cm |
| F , F , F , Gm – Gm – Am , Am , Am , Dm – Dm |
| B♭ , B♭ , B♭ , Am – Am – Gm , Gm , Gm , Cm – Cm | (Cm – Cm)
VERSE 1
Itsu Fdatte daGmreka wo oAm Dmmou
Yasashii Gmuso datte minCna chanto shitteru
ZutFto issho Gmni itai Amyo honto D♭no kimoDm Cchi
Kore Gmwa ai naCno ka na?
PRE-CHORUS 1
DmKiseki toEm unmei Fno deai kaB♭ Amra
BoGmkura wa mata aCno basho e to
CHORUS 1
KirameFku hoshi yozora ni te Gmwo nobasebaAm
YomigaDmeru ne oCmoi mo nukuGmmori Amno B♭hi moC
Afure Fdasu yo ano toki aGmno bamen deAm
Kimi no DmkotoC#ba naiCte waratBmta
KioB♭ku no subeFte ga
kaki Amkawaru to shite moDm
Deja Gmvu mitai ni kokoCro no oku de YureteFru!
INSTRUMENTAL 1
| F , F , F , Gm – Gm – Am , Am , Am , Dm – Dm |
| B♭ , B♭ , B♭ , Am – Am – Gm , Gm , Gm , Cm – Cm |
VERSE 2
Ori Fhimesama Gni wa nareAm Dm Cnai
Watashi Gmno chikara ja sasaCe kirenai kedo
HanaFre banare Gmga kowakuAmte oi nori o suru Dm Cyo
Sore Gmmo ai naCno ka na?
PRE-CHORUS 2
DmSubete noEm bamen ga Fkoishi sugiB♭ Amte
BoGmkura wa mata aCno basho e to
CHORUS 2
Donna Fmabushii hikari no seGmkai sen Ammo
KanashiDmmi toka Cyorokobi Gmwakare Ammo atB♭ Cte
Naita Fmama de anata no hoGmho wo tataAmku
Sono shDmunkaC#n nani Cka ga kaBmwaru yo
Me ni B♭wa utsurFanai
MamoAmru beki nani ka Dme
InoGmchi sae sasagu
Sore Cga minna no sentaDmku
INSTRUMENTAL 2
| Dm , C – B♭ – (rest) , Dm , Dm , E – Fm , Fm , Gm , A |
BRIDGE
D♭Ooi naE♭ru umi waFtatte E♭ D♭ tsuginaru E♭taisetsu Amna
BuDmnkiten aB♭tarashii miD♭rai no
MoCnogatari Dmno shujinkou B♭ C C#me
Itsuka aGmeru nAme sono B♭hi maCde
INSTRUMENTAL 3
| F – F – D♭ , D♭ , D♭ , E♭ – E♭ |
| F – F – D♭ , D♭ , D♭ , E♭ – E♭ |
| B♭ – C – F – B♭ , Am |
| Gm – Gm , Gm , Gm , Am – Am , B♭ , B♭ , B♭ – C | (C – C)
CHORUS 3
Donna Fmabushii hikari no seGmkai sen Ammo
KanashiDmmi toka Cyorokobi Gmwakare Ammo atB♭ Cte
Naita Fmama de anata no hoGmho wo tataAmku
Sono shDmunkaC#n nani Cka ga kaBmwaru yo
Me ni B♭wa utsurFanai
MamoAmru beki nani ka Dme
InoGmchi sae sasagu
Sore Cga minna no sentaDmku
OUTRO
| F , F , F , Gm – Gm – Am , Am , Am , Dm – Dm |
| B♭ , B♭ , B♭ , Am – Am – Gm , Gm , Gm , Cm – Cm | (Cm)
| Dm , Em – F , C – C , B♭ – B♭ |
| B♭ |
---
---
---