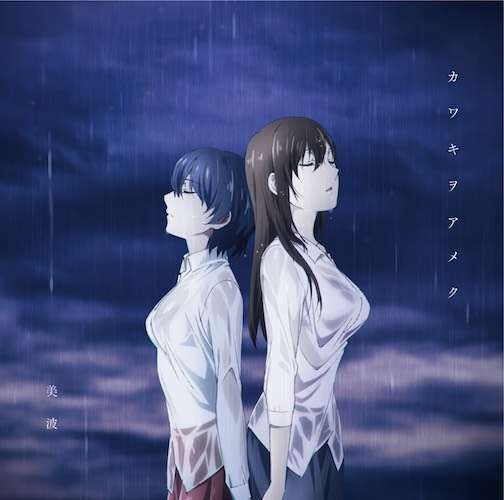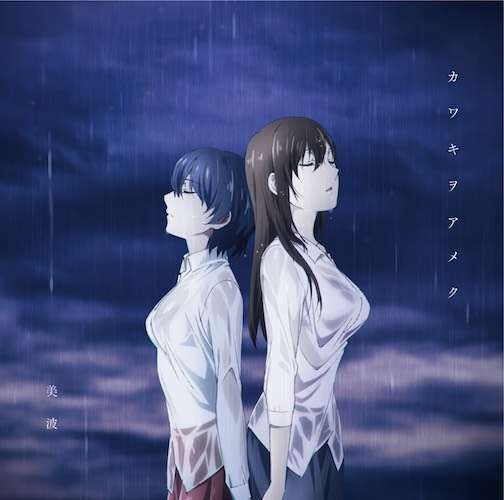 Hollowness
by Minami
Kawaki wo Ameku (カワキヲアメク)
Song album
Kawaki wo Ameku (カワキヲアメク)
Transcribed by

Quuplet
Original song key(s)
F minor, F major
Key(s):
F minor, F major
×
---
Hollowness
by Minami Kawaki wo Ameku (カワキヲアメク)
F minor, F major
---
---
INTRO
| Fm - A♭ - B♭m - D♭ |
| Fm - A♭ - B♭m - Cm | (rest)
| Fm - D♭ - A♭ - B♭m , Cm |
| Fm - D♭ - A♭ - B♭m , Cm |
VERSE 1
Fm Kimi wa iA♭u "mou raku B♭mni nareru yo" D♭to E♭
Ima oFmmoeba soA♭re ga amaB♭mi wana ni
CmNatte itan da
Fm Kyou mo hiA♭to no risou de waB♭mtashi wa gugeD♭nka saE♭rete iku
Fm Kyokou kyogenD♭ kyozou kyoshiE♭n de
TsukuriageB♭mta ji - Cmbun de
D♭ ShoujiE♭ki mono wa oFmokami shounen
UsotsuD♭ki wa sorosoE♭ro higaishazuA♭ra de
Uso naki haCmjimeru jikan D♭da
DdimAa konE♭na sanjigen nante
NigeEmtakunaru ni
KiCmatten daro
CHORUS 1
To E♭virtualize a D♭lie
Hikagakuteki E♭genjou to kakuuteki Fmgenron
Nandemo yoB♭mkatta yo
CmAi wo kuD♭re yo aishite kuE♭re yo
KoEdimtoba wa mou waFmtashi wo iyase ya shinai
Mou E♭chotto soba ni iD♭te yo
Tarinai ikite kita aE♭kashi wa kizu Edimkizu
Kawari ni Fmnatte onegaB♭m/F#i
Kagami A♭no naka no doppelB♭sus4gän - ger B♭
INSTRUMENTAL
| Fm - A♭ - B♭m - D♭ |
| Fm - A♭ - B♭m - Cm |
VERSE 2
Fm Zutto nante A♭hodo hakanai mono wa naB♭mkatta
ZenbuD♭, sou, fikushon deFm ii
SoryaA♭ hitomi mo toB♭mjitaku mo
D♭Narudarou?
| D♭ , E♭ - Fm , A♭ - D♭ , E♭ - Fm , Cm |
| D♭ , E♭ - Fm , A♭ - D♭ , E♭ - Fm | ( Fsus4 , F )
CHORUS 2
KaE♭tamuite shiD♭matta tenbin no yoE♭ko de
Watashi ni waFmratta mou kimi no basho wa B♭mnai to
KaCmeritakuD♭te mo mou kaereE♭nakunatte
KoEdimtoba hiFmtotsu no omosa mo
ShiCmranakatD♭tan da
E♭ Watashi no Edimgisei ni natte kuFmre yo
RiB♭m/F#sou - kyou A♭wa doko e Fmkieta
POST-CHORUS 2
GdimKawarihateA♭ta sugata de B♭m
CmWatashi Fmni itsuwari no eGdimmi wo ukabete A♭ita B♭m Cm
BRIDGE
F Mata uso wo suikonde
Gm Kimi wa atarashiB♭i uso wo tsuD♭kutte haE♭ku no deFshou?
Utsuwa ni sugiGmnai aitsu ni wa nareB♭nai
Subete tsukurD♭iagetE♭a ri - Fsoukyou C
INTERLUDE
KowashitaD♭katta ga kowasenaE♭katta
Watashi no riFmsoukyou wa koko shika B♭mnakute
CmImi mo D♭naku te wo saE♭shinobeEdimte shimaFmtta
KaD♭gami Ddimno oku E♭e
CHORUS 3
To E♭virtualize a D♭lie
Higenjitsuteki E♭genjou ari mo shinai Fmkyouzou
Kiete iku kyouB♭mkaisen wo
CmKaeshite kuD♭re yo to kaeshite kuE♭re yo to
MoEdimu ichido yariFmnaosasete hoshikute
HonE♭mono wa koko ni iruD♭n da
D♭"Sore wa chigau, E♭chigaun da"
GeEdimnei no watashi wo aisanaiFmde
Wasurenaide oneB♭m/F#gai
Omoi wo haA♭sete chikau B♭sus4 B♭yo
OUTRO
"I won't lie to you aD♭gain
You E♭have my D♭wordE♭" Fm B♭m Cm
| D♭ - E♭ , Edim - Fm - B♭m , Cm |
| D♭ - E♭ - Edim - Fm |
| D♭ |
---
---