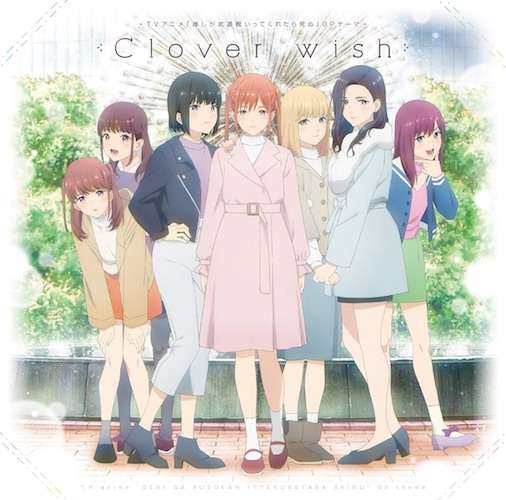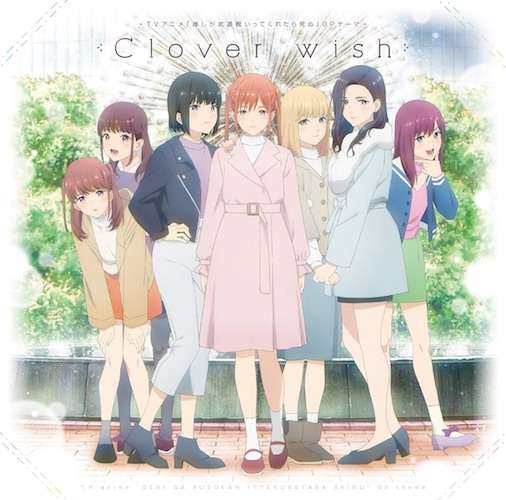 Clover wish
by ChamJam
Oshi ga Budoukan Ittekuretara Shinu TV Anime (opening song)
Released 22 Jan, 2020
℗ 2020 PONY CANYON INC.
Song album
Clover wish/♡Momoiro Kataomoi♡
Transcribed by

Quuplet
Original song key(s)
F# major, A major
Key(s):
F# major, A major
×
---
Clover wish
by ChamJam Oshi ga Budoukan Ittekuretara Shinu TV Anime (opening song)
F# major, A major
---
---
INTRO
| F# , C#/E# , D#m - C# , A#m , A#m |
| B - C# |
| B - C# - F# - D#m |
| B - C# - A#m , A#m , (rest) , A#m - A#m , (rest) , B , C# |
VERSE 1
BTsutaetemo tsutaC#etemo koe ni deA#mnai
A#mMabushi sugitaD#m ka na?
BKagami no mae hito C#kokyuu oite
F#Kimi e to hashiriD#mdashita
PRE-CHORUS 1
A#m(Sot - Dto)
DShabon dama wo C#mme de ou taFdimbi
F#m Azayaka ni suAkoshi yurete
BNan da ka kimagure naC# hitomi to kasanatta
(rest)Nee, aitai!
CHORUS 1
B Shinpuru na koC#toba wo tsukaeta
F# Ichibyou de suD#mbete ga kawatta
BGuuzen deaetC#a kimi no koto
F# Kimi no koto F#ha - G#mna - A#msa - D#mnai
B Anburera kiC#mi no kasa ni natte
F# Issho ni onaD#mji keshiki zutto
BMitai na tonaC#ri de warai nagaF#ra
KamiG#msama A#mni todBoke!
C# Clover Bwish
VERSE 2
BItsu datte doko C#datte
Sugu kimi A#mni tsunage kangD#maete
BMune no oku setsuC#naku nattanda
F#Donna ima miteru D#mka na?
PRE-CHORUS 2
SotDto korogatteku boC#moru ou taFdimbi
F#mTakusan no oAmoi (fuete)
BIki wo kirashite demo
C# Chikazuite ita katta
(rest)Tsuite iku yo
CHORUS 2
B Yuuforia yuC#me ni kurumatte
F# Konnani mo aD#mtatakai nante
BKao wa minakute mC#o sono hyoujou
F# Sono kimochi F#wa - G#mka - A#mrun - D#mda
B Oshietai kiC#mi no sonzai wo
F# Konnani mo suD#mbarashiin datte
BWatashi no fuC#an mo kiete shiF#mau
KamiG#msama A#mmo shiBranaiC# clover F#wish
INSTRUMENTAL
| F# , C#/E# , D#m - C# , A#m , A#m |
| B - C# |
| B - C#/G# - D#m - A#m |
| Fm - Cm - B , A#m - Adim - C#/G# |
BRIDGE
Kimi no D#mtame ni
Kimi no C#tame ni
Kimi no F#tame ni
UC#ta - Bi tsuzuke
Kimi no D#mtame ni
Kimi no C#tame ni
Watashi Bde irareru C#koko de
C#Nee aitai
CHORUS 3
B Shinpuru na koC#toba wo tsutaeta
F# Ichibyou de suD#mbete ga kawatta
BGuuzen deaeC#ta kimi no koF#to
F#Kimi no koto (rest)hanasanai
BAnburera kiC#mi no kasanatte
F#Issho ni onaD#mji keshiki zutto
BMitai na tonaC#ri de warai nagaC#mra
C#mSuteki na F#koi wo shiyou
B Yuuforia yuC#me ni kurumatte
F# Konnani mo aD#mtatakai nante
BKao wa minakute mC#o sono hyoujoF#u
F#Sono kimochi F#wa - G#mka - A#mrun - D#mda
B Oshietai kiC#mi no sonzai wo
D#m Konnani mo subarashiin datte
BWatashi no fuC#an mo kiete shiF#mau
KamiG#msama A#mni todBokeC# clover Bwish
OUTRO
| B - C# - F# - D#m |
| B - C# - A#m , A#m , (rest) , A#m - A#m , (rest) , B , C# |
| F# , C#/E# , D#m - C# , D#m , D#m |
| F# |
---
---